Japanese
| | |
| --- | --- |
| | Guide to Submitting Usage Reports |

# Accepting period of submission of Usage Report of FY2023 is from 3:00 PM (JST) on November 7, 2023 and ends 5:00 PM (JST) on November 28, 2023.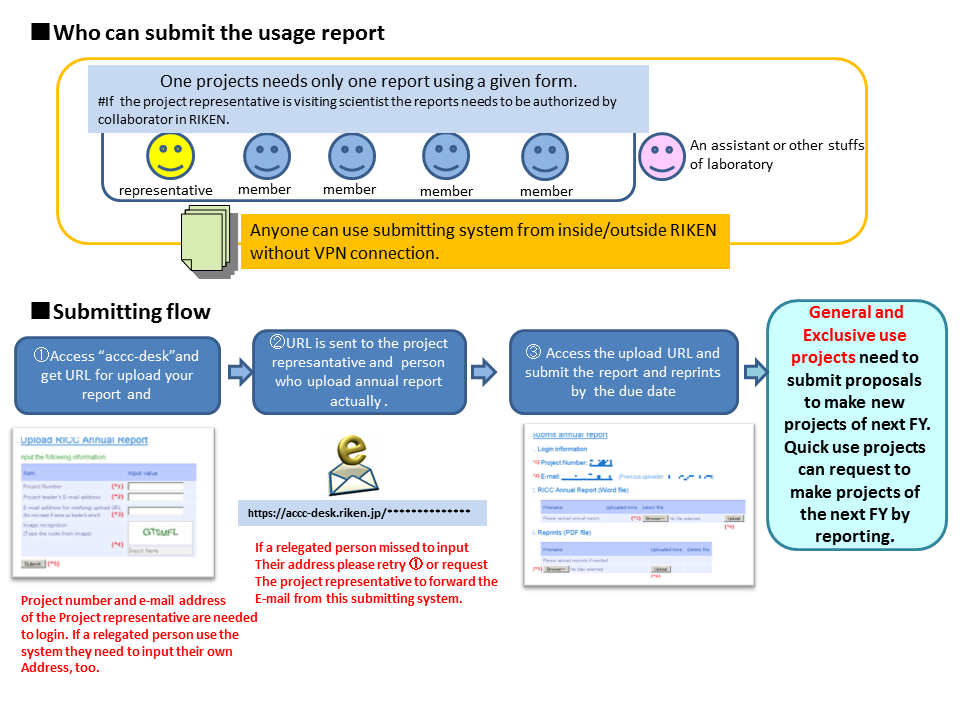 1.Introduction
At the end of HBW operation, we would like to inform HOKUSAI users are needed to submit  "Usage Report".
If project fails to submit the annual report, members of the projects will not be allowed to use RIKEN Supercomputer.
The Usage Reports will be disclosed at Archives of Usage Reports.
Target: All projects (Q23***)
Usage Report have to be submitted by each project not by each account.
Applications for use of BW2 trial operation will be accepted on the BW2 User Portal after the trial operation starts.
If your project do not use Supercomputer in this FY, please describe the reason why you did not use Supercomputer in the Usage Report and submit it.
2.Form download
You can download the Usage Report form from the following.
If reprints or preprints of the publications listed at the Publications List in the Usage Report are available, please submit them.
3.Accepting Period
The deadline for submitting the Usage Report and reprints is 5:00 PM (JST) on March 2, 2023.
Accepting period
Start: 3:00 PM (JST) on November 7, 2023
End: 5:00 PM (JST) on November 29, 2023

Since the application system will be closed automatically at the deadline, please complete submitting process including upload in advance with a margin by the deadline.
4.Submission method
Please submit the Usage Report and the electronic files of the reprints using the
Online Submission System(accc-desk)
.
After downloading and describing the Usage Report, access the Online Submission System(accc-desk), obtain the upload URL and submit the Usage Report.
It is accessible from outside of RIKEN by anyone who knows "Project ID" and "e-mail address of the project representative".
We cannot accept submitting by e-mail.
5.Notice
Instruction of making Usage Report is written in the report form.
Usage Report need to be authorized by the project representative and supervisor before submission.
The "About usage of next fiscal year" field on the report submission screen is not valid.